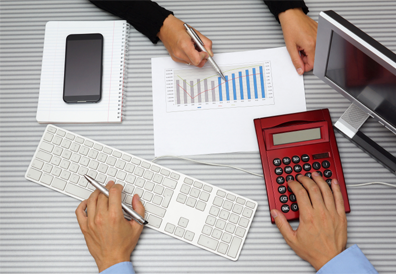 INVOICE FACTORING
Every factor on our site has been personally vetted by us and found to be trustworthy and reliable.
Set your terms, define your criteria, and let pre-qualified factors compete for your business.
Complete the form below and have factors competing for your business
Our service is fast, easy, and FREE!
Convert Invoices into Cash Now
Invoice Factoring is a financial transaction between a business and a third-party factor. The factor is a funding service that purchases a business' accounts receivables or completed invoices at a discount and provides the business with immediate cash. Businesses can then use this money to pay for current business needs or to fund growth. The primary advantages of invoice factoring are:
Immediate cash payments for work already performed. There's no waiting 30-90 days for your customer to pay on the invoice.
Improved business cash flow. Businesses are better equipped to take on new business if they have more money on hand.
Reduced administrative expenses. The factor takes over the work of collecting on your invoices, saving you time and administrative expenses.
Improved financial position. Businesses are better able to meet their current obligations to vendors and suppliers, for payroll, on debt payments, and taxes by having cash available.
It is not a loan. Businesses that use factoring do not take on any new debt. The business receives a cash payment for a discounted amount of the invoices and the factor is then left to collect on the invoices.
How Invoice Factoring Works
Invoice Factoring works like this:
You perform work or provide a service to your customer.
You sell invoices for that customer to a factoring company.
You receive a cash payment from the factor, based on a percentage of the invoice amount.
The factoring company collects payment from your customer.
You receive the difference between the percentage already paid and the amount collected, minus the factoring company's fees.
How National Factoring Association Helps Match Businesses With Factors
There are a lot of funding choices and factoring companies out there. You want to make sure you're getting the best accounts receivable factoring company for your business needs. That's where National Factoring Association comes in.
We are dedicated to matching business owners with the right factor for their needs. We have a strict qualification process that every factor must meet in order to be included in our database. This qualification process protects business owners from unscrupulous factors who use unethical business tactics and aren't looking out for your best interests.
Every factor on our site has been personally vetted by us and found to be trustworthy and reliable. If they prove us wrong, they are immediately removed from our databases, never to return.
We feel that your business is too important to risk getting stuck in a financial relationship that does more harm than good so we do the research for you so you can rest easy that any factors you find through our site are reputable.
This allows you to focus on finding the best rates and services offered by the factors instead of wondering if the factor is reliable or not.
In fact, we are so serious about helping businesses find the right factor for their needs, that our services are absolutely FREE to business owners!
Finding A Factor With National Factoring Association
Finding factors on our site is simple. Simply select your criteria on the online form and hit "Search." Soon you will receive bids back from up to 10 different invoice factoring companies. Review the information, choose up to 3 to compete for your business, and review the bids when they come in. Choose the one that works best for your needs and collect your money. It's that simple!
You are guaranteed competitive and customized rates that meet your exact needs. This is in stark contrast to the block pricing you'll find at other factoring brokerage houses.
Start your search right now by filling out the form on this page!